Quantum Hot Water Prices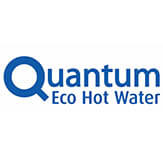 Quantum began in the mid 1970's, and they are passionate about providing eco-friendly water heating solutions. They are known for their innovation and are proudly Australian owned and operated. Their range of solar heat pumps is known for reliability and durability, and they can withstand the harsh Australian conditions. With Quantum, you can shop a wide range of sizes to get the best fit for your property and lifestyle, whilst also doing your part to reduce greenhouse gas emissions. Solar heat pumps are growing in popularity, and they are a great alternative to traditional electric, gas and conventional solar systems. They do not require any unsightly roof panels and are very simple to install and use. Quantum offer the biggest range of solar heat pumps in Australia, and their products are suitable for both residential and commercial projects. You can expect a reliable supply of hot water for years to come when you choose a Quantum solar heat pump hot water system.
All Quantum pumps feature a Patented Tank Wrap design to improve hot water recovery rates. They are designed to be used in any environment, and will even operate at a temperature of -10°C. They do not require a booster element, so you make great savings on your energy bill. Quantum pumps are remarkably quiet, easy to install and many installations will be eligible for government rebates. Quantum is the number one choice for compact, reliable and cost-effective water heating in Australia.
Quantum solar pumps work even when the sun isn't shining, as they make use of ambient heat to produce hot water. Sizes range from 150L through to 340L, there's a pump to suit all needs.
NSW Hot Water are a proud supplier of Quantum hot water systems. We carry an extensive range of Quantum systems at a very competitive price – explore our full range today and give us a call to ask about specific Quantum heat pump hot water prices.
No products were found matching your selection.