Dux Hot Water Prices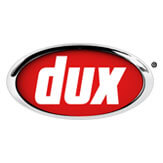 Since 1915, Dux has been committed to developing hot water systems with better efficiency, reliability and longevity. You can be sure that you'll always have hot water delivered to you safely and economically.
Proudly owned by Noritz, Japan's leading manufacturer of residential and commercial hot water systems, Dux has been leveraging the superior technical capabilities to build cost-effective storage water heaters for everyone.
Dux Electric & Gas Storage Systems
With 10 year warranty for the cylinder and 1 year warranty for the parts and labour, Dux is confident about the performance and longevity of their product range. Manufactured in a state-of-the-art facility in the Southern Highlands, surely the hot water unit you buy will last for many years to come.
Ranging from $370 to $1,550 you can find a unit which best suits your daily requirements for hot water. Whether it's Electric or Gas, you'll save on costs upfront and in the long term because of their affordable units and highly efficient operations.
We have energy-efficient and compact units that are small enough to fit into most cupboards (e.g. 670mm height and with 50L capacity). Stylish and compact, this is a popular choice for households with 2 to 3 people.
We also have large and high capacity units perfect for households with 9 to 11 people. With 400L and other tank sizes (315L, 170L), these units have a tough polymer base (strong resistance to damage and moisture) and larger anodes (increases tank life). For many years you can be sure that the tank will last.
With 4 and 5 star efficiency ratings, you'll save on water heating costs each month. With easy installation and replacement, you can get immediate access to hot water. The superior technical capabilities will guarantee hot water being delivered to you safely and at an economic price.
Showing 1–9 of 13 results